When importing Speedtree shaders into URP, we noticed that once the light mode was set to baked only on the directional light in our scene, the speedtree shaders bake out completely black from Terrain Light probes. Prior to baking (with all baked lighting cleared), the trees just have a dark side where they are in shadow but this is very dark and looks ugly nomatter what we do with Shadow intensity on the directional light.
When we took the tree materials and changed them to the default URP/Lit shader, they look just fine with terrain light probes.
My assumption here is that in URP only, the light probes on the terrain bake out completely black for Speedtree shaders as this does not happen with the built-in renderer, see the videos below. I am happy to share this example scene (both the URP and built-in renderer version) as we are not pleased our trees do not look right in URP now.
UniversalRP version: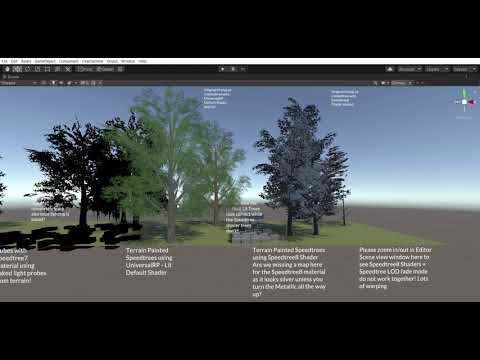 Built-In version: