Hello!
I'm working on some stylized trees for a game and I'm having a great deal of issue creating a stylized look for the leaves on the tree. I've managed to get the front faces of all the leaves to look nice so that they don't have dark spots in them. The Parent Puffiness & Global, as well as Puffiness helped greatly with this look, as it creates the classical spherified normals look very well. The problem with this approach however is that it makes the backside of the leaves extremely dark, far more than what is acceptable for the visual look I've been instructed to create.
I did try to counteract the effect using some SSS, but the downside to this approach is that it can occasionally push the front side values too far, making them appear too bright. It's not a bad result, but I'm not entirely sure if this is the only way to get close to the results I'm looking for.
For comparison, here are some images of shading results that look like what I want to achieve:
While I'm getting this result here with SSS: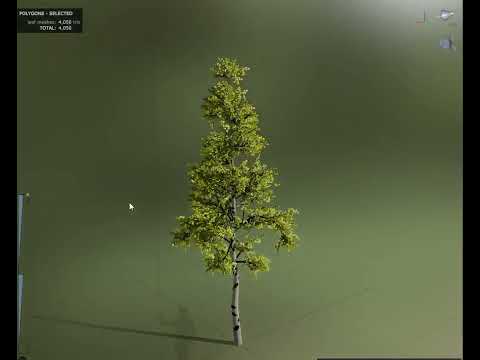 Here are some images with and without SSS:
This side of the lighting isn't so bad, but it looks horrible from the other angle:
No SSS:
The no SSS result is not looking nice at all as you can see. The color of the leaves is far more correct however, as the SSS isn't influencing that aspect.
I'm curious if there is a go to approach for solving these issues in Speedtree, what experiences others have had or if there are any good pointers around for how to tackle this issue.
Could the issue potentially be with how the leaves are added? Do they simply need more volume and perhaps be created without the twig? I'm throwing out ideas here really and I'm really not sure how to approach the issue.
Alternatively, does this simply need to be resolved in engine? These will be heading into Unity URP and we could potentially look for an alternative setup for the shader there, but it would be nice to keep some of the nice funtionality that comes with the speedtree shader.
I can upload the workfile with assets if need be.
Looking forward to your replies.